Equipped with advanced features and connectable to dual display controllersUp to 15 master units can be connected to one master unit, allowing for easy multi-point calculation. Its ultra-compact body has guide tabs for DIN rails, allowing for easy connection with other controllers in production and inspection lines.
The dual digital display covers a wide range of uses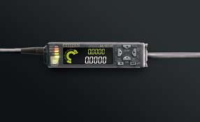 Easy-to-read VA high contrast LCD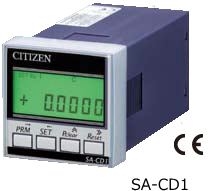 Comes with a 49 mm square controller specially designed for the SA Series and equipped with a two-color display that enables easy recognition of pass/fail judgment resultsHigh usability with a 7-level sorting function
Easy to recognize a tolerance judgment result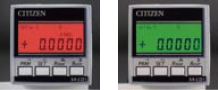 Depending on the setting value, the backlight changes to green (OK) or red (NG), making it easy to recognize a judgment result even from a distance.
Three types of output terminals availabl

For interface (European type)