We have dealt with ceramics for many years with abundant experience
as a bearing manufacture. Therefore, we are confident we can deliver
high precision ceramics.
Dimensional accuracy down to ±0.3μm is available※
Light weight with high wear resistance when compared to metals
Specifications suitable for different usages
※Depending on the product and the price
Designated processing is available for designated surface roughness and clearance accuracy. We also pride ourselves in excellent dimensional accuracy.
CITIZEN FINEDEVICE runs integrated production from raw material composition, granulating, molding, firing complete through processing. Besides granulation technology and near net shape, we use press powder molding, extrusion molding or CIP molding technology, in addition precision process finishing, we manufacture ceramics and bearings with dimensional accuracy to the sub-micron level which are not available elsewhere in the market. Hole dimensional accuracy for the bearings is available down to ±0.3μm. Available Surface roughness and dimension accuracy are at high standard of Ra 0.03μm and below.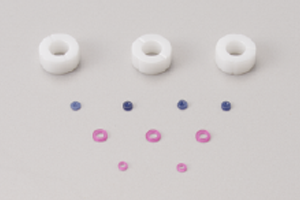 Excellent durability, wear resistance and hostile-environment resistance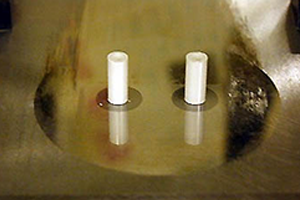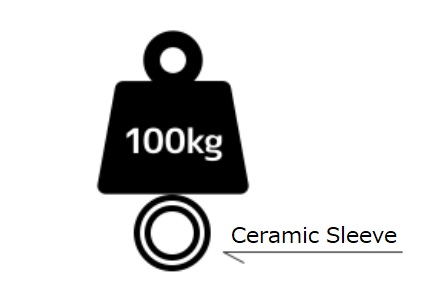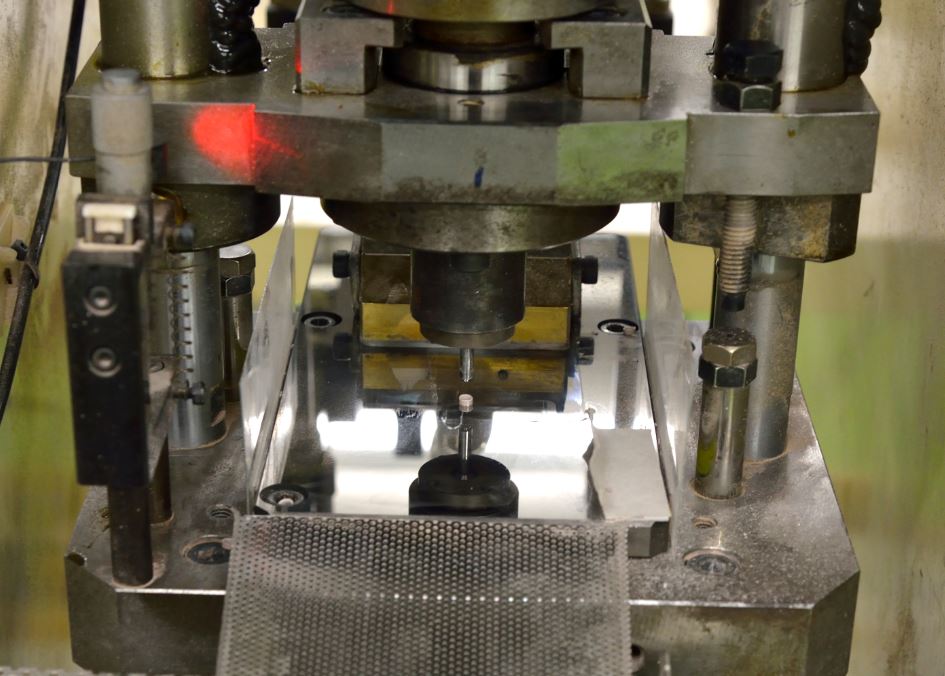 Our unique ceramics with raw material composition are made from high strength shock resistance materials and will never thresh, so the risk of lubricant viscosity change or rotation failure can be minimized. In addition, it may be used in high temperature with high humidity environments due to very low thermal deformation and is hard to be abrade even when in contact with movable parts, and thus is available for use in different situations.
| General density | g/cm3 |
| --- | --- |
| iron | 8 |
| titanium | 5 |
| stainless | 8 |
| copper | 9 |
| carbide | 15 |
| alumina | 4 |
| zilconia | 6 |
| SiALON | 3 |
We mix and crush the raw materials of alumina and zirconia with a binder and make the optimum granules for our press processing with a spray dryer. This makes it possible to increase dimensional accuracy and strength.
And we provide products with characteristics suited to their application by controlling the strength and toughness values of the new material SiAlON using our unique blending.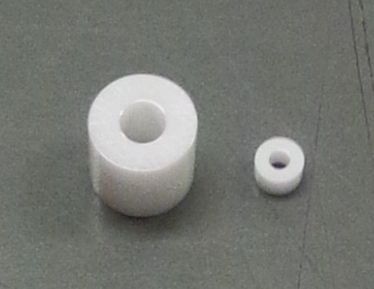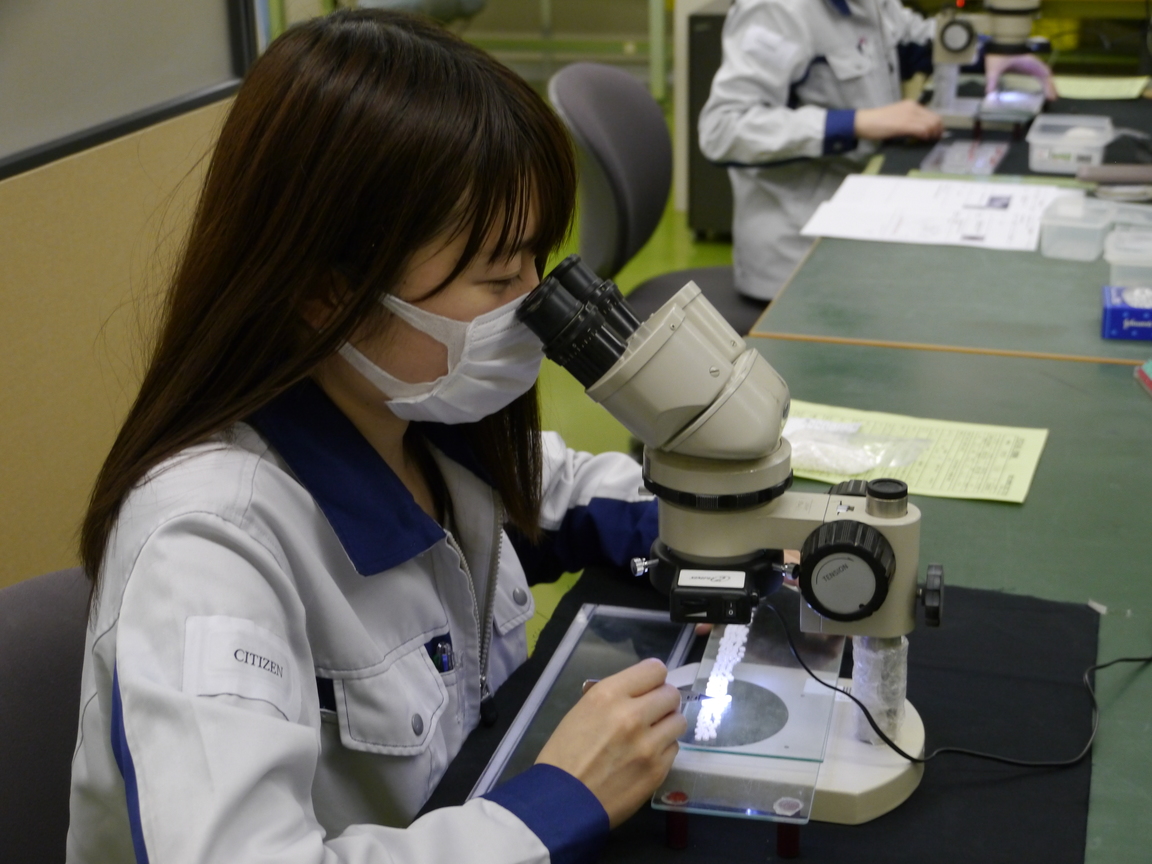 With the wide range of technology which is built through integrated production, we support not only bearing products but also optical communication connector components, and so on in different markets.
With our advanced ceramics molding technology and ultraprecise polishing technology for bearings, we manufacture optical communication connector components such as ceramics split sleeve and precise sleeve with high precision and high quality. In addition, by utilizing precise centerless processing technology, in-house production of pin gauge for inspection use is also available.
・Optical communication adaptor
・Receptacle for optical transceiver
・Optical closure
・Optical connection box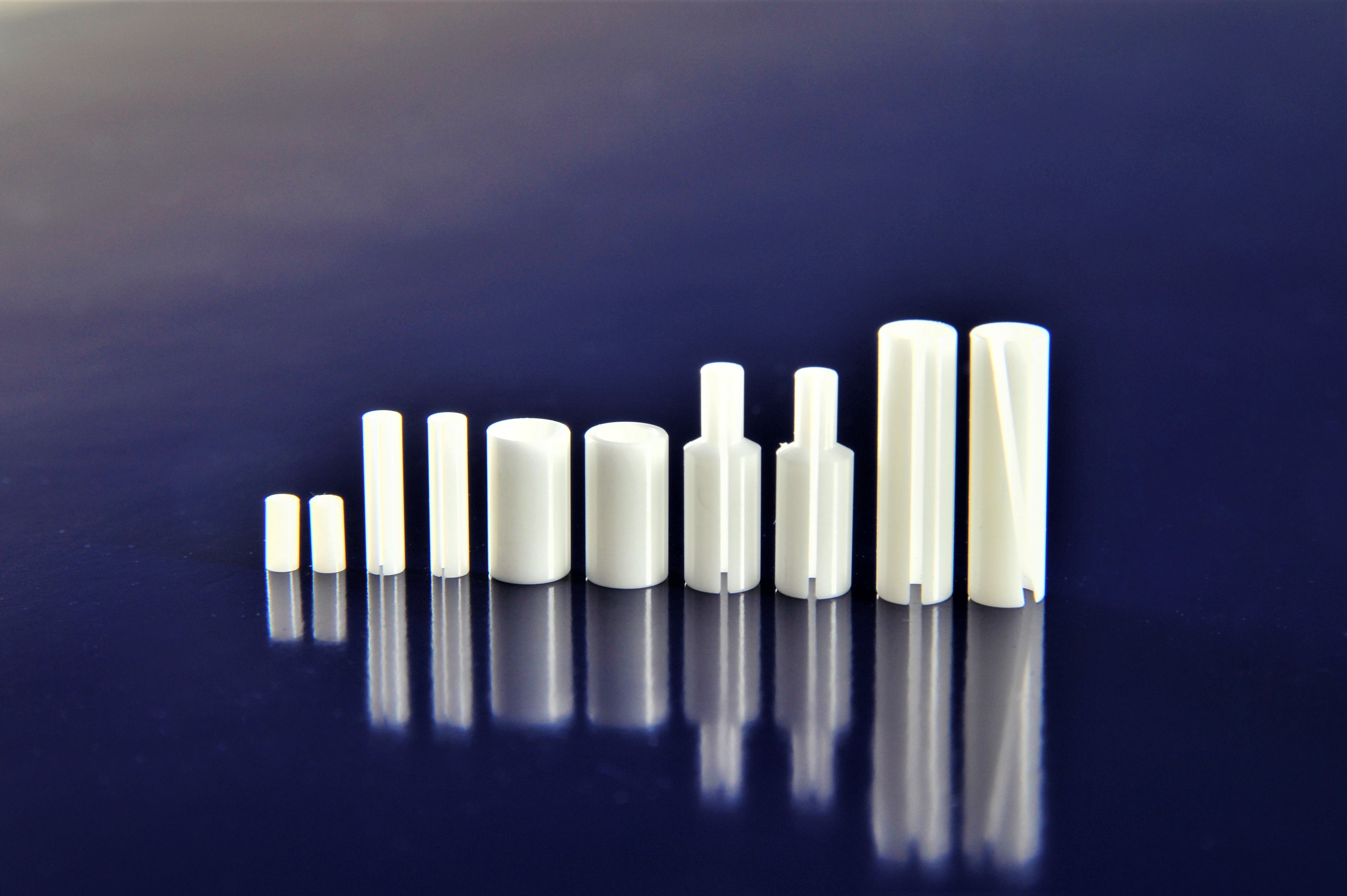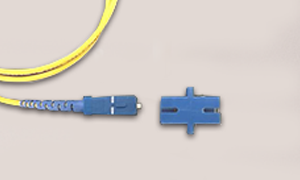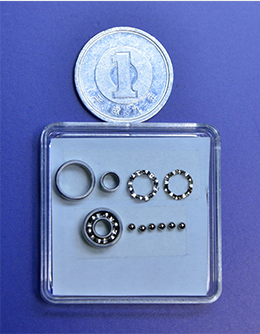 SiAlON is a ceramic material based on silicon (Si) and also comprising aluminum (Al), oxygen (O) and nitrogen (N), the name was derived by combining the initial letters of the component elements. Its major characteristics are high hardness,  high toughness which means it does not crack easily, combined with excellent  heat and wear resistance.
Ceramics, bearings Case Study
Company name: Confidential / Industry: Bearing
Problem for Ceramics, bearings
The customer had problems that the metal bearing caused metal drop-out due to "poor inner dimension accuracy, roundness accuracy, surface roughness, etc…", in addition, it caused rotation failure due to high viscosity of lubricant. Moreover, the bearings were also easy to deform by shock and caused noise. The customer wanted to solve these problems. The customer also wanted to try ceramics; however, there were no vendors immediately available.
About products or solutions
We proposed a drawing to the customer after discussing the design of the bearing made of ceramic material (this accuracy is not available for metals). We discussed about the design with the customer's engineers and completed the final design which was approved by the customer. For those portions where we could not immediately make a decision for the dimensions, we made multiple kinds prototypes to evaluate.
Manufacturing prototype – Delivery process – Customer feedback
We expedited production of multiple kinds of samples and delivered them to the customer. At the same time, we simulated the manufacturing line subject to the mass production and proposed an estimation for the mass production to the customer. The customer started evaluation immediately, and after the products passed the initial evaluation, we started several thousand hours of endurance tests. During the endurance test, we communicated often and discussed the future by considering issues and measures which need to be taken care of at the time of mass production and also considering issues about the new bearings. Subsequently, the products passed the endurance test, we decided upon the best dimension from the test, proposed the final drawing, and gained approval by the customer.
Ceramics are usually more expensive than metals due to the difference of the material and cost. However, we could propose lower price than metals metallic components.
The mass production schedule originally directed by the customer was significantly moved up. It was an almost impossible request; however, we were able to complete initial mass production by the due date within a short period of time by putting all of our engineers in service.
We were able to improve performance drastically, which will be well-received by the market. The bearing price met our expectations. However, since we would like to increase the number of the products in the future, so please collaborate with us on the pricing and let's establish a good Win-Win relationship.
FAQ about Ceramics, bearings
Characteristics comparison for ceramics (hardness, wear resistance, etc…)
| | | | | | |
| --- | --- | --- | --- | --- | --- |
| Material name | Sialon | Zilconia | Alumina | Silicon nitride | High-carbon chrome bearing steel (SUJ2) |
| Specific gravity | 3.2 | 6.0 | 3.9 | 3.2 | 7.8 |
| Vickers hardness value (Hv) | 1600 | 1300 | 1700 | 1500 | 700 |
| Vickers hardness value (Hv) | 6.0 | 5.8 | 3.0 | 6.0 | 15 |
| Thermal expansion coefficient | 3 | 10 | 8 | 3 | 10 |
What kind of materials do you deal with?
Alumina , Zilconia , Sialon
What kind of methods do you use for molding?
Powder press / Extrusion / CIP
What kind of production processes do you have?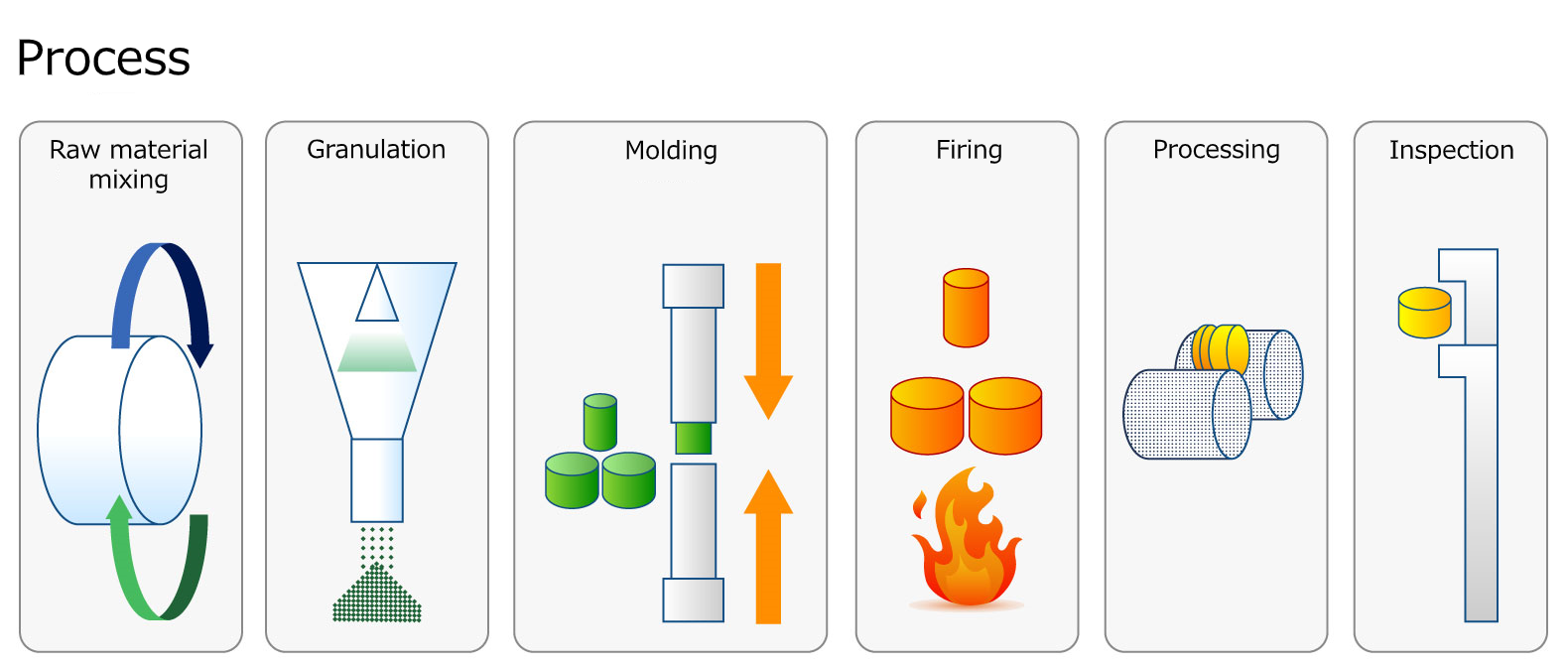 Can you manufacture porous ceramics?
What kind of equipment do you have?
Surface grinder, rotary grinder, wire saw, double-sided polishing device, single-side polishing device, centerless processor, wet grinding mill, spray dryer, electric furnace (air and vacuum), servo press machine, barrel machine, inner diameter process machine
What is the best hole dimensional accuracy?
Hole dimensional accuracy down to ±0.5μm is available.
Please explain about your capability for roughness and dimension accuracy.
Ra 0.03μm or below. (Alumina , Zilconia , Sialon)
How many mm diameter can you make?
We can handle from 1mm to 10mm.
How big is the inner diameter?
We can handle from 0.1mm to 8mm.
What is kind of advantages over metal?
Please check the characteristic list above.
Can you form groove inside of the hole?
Possible. Please contact us for details.