Product Features
Robust, Highly reliable, High-performance
Installed in Mazda Motor Corporation's SKYACTIV-X engines
Installed in all cylinders for the first time in the world, they are one of the key elements supporting SPCCI, a pioneering technology in the ultimate combustion (HCCI) field.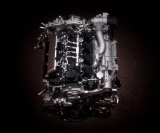 High precision, High durability, Long life
Stable measurement even in extreme environments in fields including motor sports, motorcycles, ships and cogeneration.
Contributing to the development of various engines, and understanding combustion statuses.