Crystal Devices, the "Salt of Industry"
We provide ultra-compact, high-precision and highly reliable products based on unique technology, in integrated production extending from crystal chips to packaging.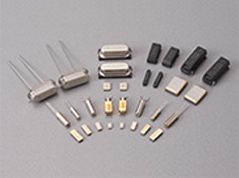 Crystal Chips (AT Blanks)
| | |
| --- | --- |
| Nominal frequency | 8.0[MHz]∼155[MHz](Overtone) |
| Cutting angle accuracy | ±30"∼±2´ |
| Blank size | 0.8×0.4[mm]∼7.0×0.5[mm] |
| Shape | Convex type, Bevel type, Flat plate type |
| Finishing of surface | #4000- Etching |
We are committed to responding within 24 hours to inquiries about crystal products made on our website. Please do not hesitate to contact us.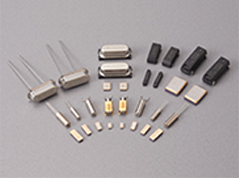 Cutting Brittle Material
When a crystal unit is cut from artificial quartz rock, the characteristics obtained differ considerably according to the angle with respect to the crystallographic plane.
To achieve the angle and thickness targeted in order to obtain the crystal unit characteristics that match the customers' requirements, we use wire-saw cutting technology with our own original tweaks.
Wire-saw cutting is a form of cutting in which abrasive grains are supplied between a very fine wire that reciprocates at high speed and the artificial quartz, so there is less cutting allowance than with a blade saw, and high productivity and cutting accuracy can be obtained.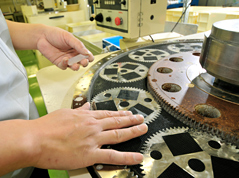 Polishing Brittle Material
By lapping and polishing wafers cut to high accuracy, we can give the outline shape and thickness an even higher level of accuracy. We achieve high cutting accuracy by adopting fixtures and tooling designed in-house and passing down the technology we have built up.
For lapping, we use a double-sided lapping technique that gives high productivity, and provide surfaces that meet the needs of our customers, from a #4,000 finish to a mirror finish by polishing.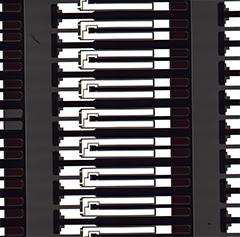 Etching
This is a technology that cuts materials by using the corrosive effects of chemicals such as hydrofluoric acid.
It is an essential elemental technology for modifying the surface obtained by lapping, or successfully processing compact, high-accuracy crystal unit chips that are difficult to achieve by machining.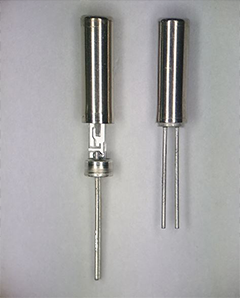 Assembly
This is assembly to provide piezoelectric devices with external electrical conduction.
Assembly accuracy plays an important role affecting quality, and as part of this we make use of higher technology in our automated machines, using reflow, lasers and so on, to enable mass production with a small amount of equipment.
We also use various assembly methods depending on the product type, such as the adhesion method which improves the damper effect to stabilize oscillation.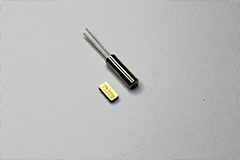 Vacuum Sealing
Sealing plays an important role such as preventing deterioration of product features in manufacturing process.
We adopt the most appropriate sealing method for each product including the press-fit type, the adherence type that uses melted brazing filler metal on a lid, and resistance welding (seam welding), which seals by applying a current.
In sealing, the key is how to maintain airtightness, and our high technology is fully utilized here.
As for as Chinese customers' inquiries, please contact to our Taiwan office.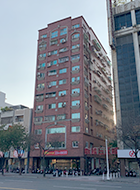 CFD TAIWAN LIAISON OFFICE
9F.-7, No. 483, Zhongshan 2nd Rd., Lingya Dist., Kaohsiung City 802, Taiwan (R.O.C.)
TEL 886-7-537-9502
886-7-537-9503
FAX 886-7-537-9880