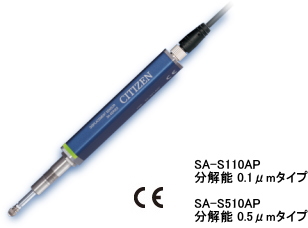 The advanced air-purge technology provides the ultimate,
excellent anti-environmental performance.
This air-purge system dramatically increases the resistance to environment by supplying air to the sensor body to raise the inner pressure and preventing foreign objects from invading from outside. It exhibits strong performance in severe environments where liquids such as permeable oil, coolant liquids and cutting fluids spill over the detector.
Applications
Automatic inspection line in manufacturing processes including
Grinding parts
Polishing
Cutting
Assembling
We recommend this product to the following industries
Automotive parts
Bearings
Electronic components
specification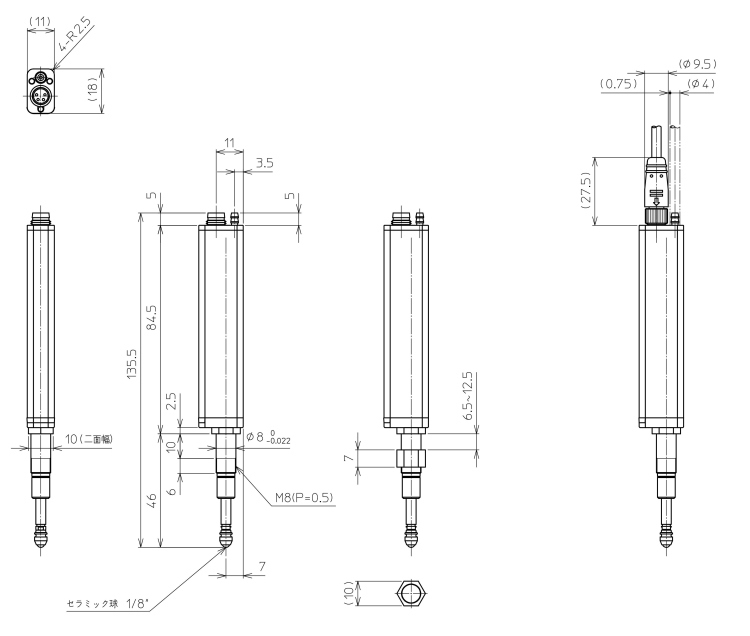 Model
SA-S110AP
SA-S510AP
Position detection method
Optical absolute linear encoder metho
Measuring range
10mm
Used fluid
Air
Operating pressure range
0.05~0.10MPa
Air tube specification
φ4mm /内径φ2.5mm
Air tube specification
Outer diameter: 4 mm
Inner diameter: 2.5 mm
Withstanding pressure
1.5~3N※2
Resolution
0.1μm
0.5μm
Indication accuracy (P-P) ※1
1.0μm 以下
2.0μm 以下
Mass
Approx. 80 g
ngress protection rating※3
Equivalent to IP67
Operating temperature/humidity range
-10~55℃/ 35~80%RH(with no condensation or icing)
Storage temperature/humidity range
-20~60℃/ 35~80%RH/td>
Grounding method
Capacitor grounding
Cable※4
Sold separately as an option
Measuring probe
Ceramic sphere with a diameter of 3.175 mm
※1 The value in the specifications is with an ambient temperature of 20°C.
※2 This value varies depending on the supplied air pressure.It also depends on the assembling accuracy of the product and wear of the sealing material (O-ring).
※3 This applies only when the air tube is connected and the sealing part is not degraded or damaged.
※4 An angle-type connector cable cannot be used.
◎ This type is not fitted with rubber bellows.