Adding more value in the area of precision machining technology
High accuracy × mass production achieved through integrated production Machining technology made possible by a history of over half a century of precision machining

Turning

Forging / Pressing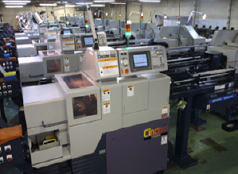 Turning
Responding to customers' orders using CNC lathes and cam-driven lathes We have a considerable track record with precision-machined components for automobiles and so on. We machine with high efficiency by making use of the characteristics of automatic lathes and chucker lathes.
Cutting (automatic lathes, CNC chucker lathes)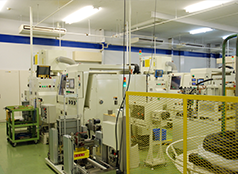 Forging / Pressing
Our advanced technological capabilities are being utilized in the manufacture of automotiveother components.
Citizen Finedevice boasts a long history in plastic press procestechnology, and the company is putting its advanced technological capabilities to work inmanufacture of components for watches, automobiles, and other products.
Our pressing operations focus on mass production of compact precision components and incpunching, bending, drawing and coining.
Citizen Finedevice provides a wide array of servfrom mold production to plating, barreling, heat treatment, and other after-treatment processemake its component manufacturing services more complete.

Grinding / Electric Discharge Machining

Heat Treatment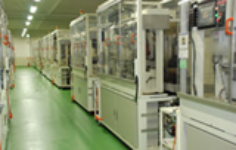 Grinding / Electric Discharge Machining
We cope with complex machining shapes, such as cylindrical grinding, through strong tie-ups with the equipment manufacturers.
We machine lateral holes including irregularly shaped holes without generating burrs by using piercing processing that applies EDM technology on equipment made in-house.
Electric discharge machining * Equipment made in-house
Grinding (outer diameters, end faces)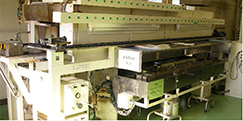 Heat Treatment
Our heat treatment technology is highly acclaimed. We have built up unique expertise in the heat treatment of precision components and microcomponents.
We handle Isonite treatment, carburizing and so on through outsourcing.
Quenching and tempering
Baking
Carburizing, salt bath soft nitriding

Surface Treatment

Testing / Inspection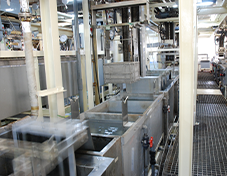 Surface Treatment
We handle various types of surface treatment according to customers' orders.
We are capable of integrated production because we have built a supply chain that includes an in-house plating line.
Cleaning
Sand blasting / shot blasting
Chemical polishing, barrel finishing
Plating (electroless nickel plating)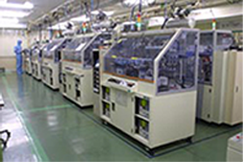 Testing / Inspection
Precision automated subassembly using the assembly technology for watch components, and 100% evaluation of the sealing performance (leak rate evaluation) of metal seal components are carried out on machines made in-house.
The leakage rate of metal seal components is guaranteed by automatic leak testing machines made in-house.
Air leak inspection
Air flow rate inspection
Various image inspections
Subassembly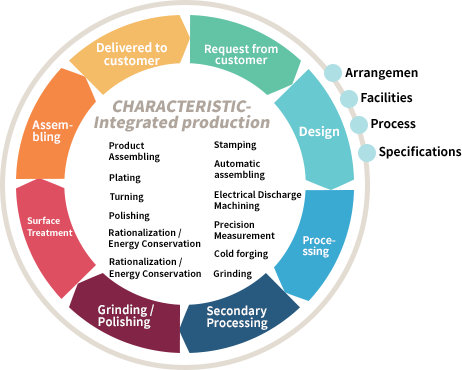 Integrated production from design and development
This not only eliminates the hassle of product management, creating design drawings and so on, but also realizes high-accuracy manufacturing.
We can run integrated production, from machining ? mainly precision cutting and precision press work but also including EDM hole machining, grinding, polishing, heat treatment and surface treatment ? up to assembly and function testing.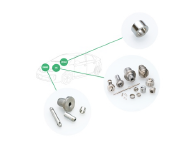 Automotive Components
We mainly manufacture automotive components.
Because these are important components for protecting human life such as ABS and brake components, high accuracy is required.
They have been highly acclaimed not just by Japanese manufacturers but by overseas manufacturers too.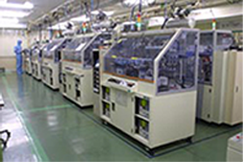 Design and development of necessary equipment in house
We develop manufacturing equipment such as leak testing machines and chucker lathes in house.
The ability to prepare what is needed in an original form enables us to manufacture high-accuracy components.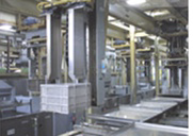 Production and development at Japanese and overseas factories
We have established factories not just in Japan but also in Thailand, where many Japanese automobile manufacturers have made advances.
We have achieved significant cost reductions by manufacturing locally. In addition to human resource development, we are also developing production technologies in Thailand.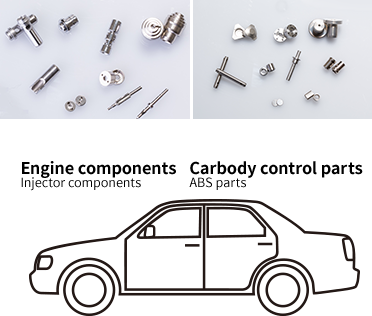 We offer products covering four areas - "safety", "comfort", "environment" and "control" - by combining four technologies: "metal part machining technology", "hard and brittle material machining technology", "assembly technology" and "automation technology".