2018.7.5
Citizen Finedevice Co., Ltd. (Head Office: Fujikawaguchiko-Machi, Minamitsuru-Gun, Yamanashi Prefecture; President: Ryuzo Kondo) has released a new digital gauge (contact-type displacement sensor) to measure dimensions on an automated inspection line during the manufacturing process. Absolute Method SA Series Air Drive Type, the new product, has a simplified mechanism design.
Digital Gauge (contact-type displacement sensor)
Absolute Method SA Series Pneumatic Drive Type
■ Model No.
2 Models

SA-S110PD(Graduation 0.1μm )
SA-S510PD(Graduation 0.5μm )

■ Date of Release
July 10
■ Price
SA-S510PD 78,000 yen + Tax   SA-S110PD 110,000yen + Tax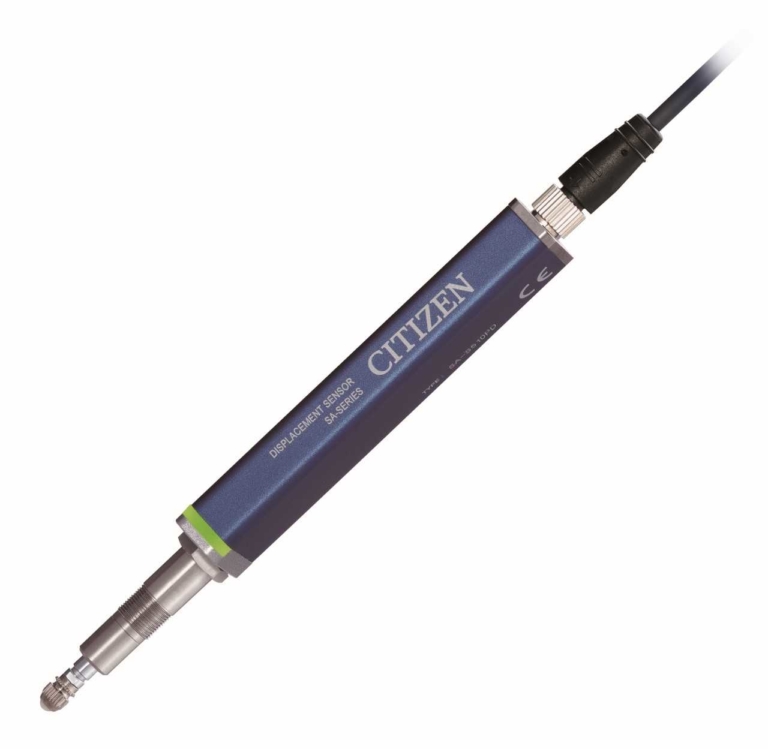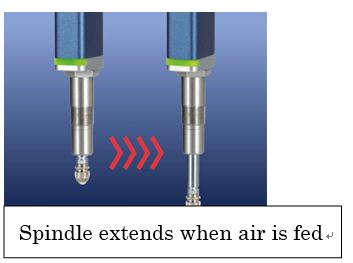 The digital gauge (contact-type displacement sensor) detects the spindle's movement when a probe touches an object to be measured with an internal sensor and quantifies the variation. It is mainly used on automated lines within manufacturing processes that require high-precision measurement. Since the release of the SA Series in 2015, the series has enjoyed a good reputation for its precision and durability. It is capable of highly accurate counting using the absolute method and has eliminated the need for zero-point adjustment.
The new product adopts the pneumatic drive. As the current standard product has a spindle, which is used to measure variations, extended in a natural state, it needed a separate mechanism, such as an air slide, to move the spindle up and down when performing a measurement. The new product is capable of moving the spindle up and down by turning the air on and off (the spindle extends when the air is turned on) and no other mechanism is required. Compared with conventional products, it requires less cost and space and is capable of completing fast measurements on automated lines.
Main features
Use of the air drive made the mechanism design simple, resulting in the product occupying a smaller space.
Adoption of the absolute method, which is capable of highly accurate counting, helps avoid tracking error risks.
Applications
Automated inspection line within manufacturing process (parts cutting, polishing, cutting, assembly, etc.)
Target industries
Electronic component industry, automobile parts industry, bearing industry
Specifications
Model
SA-S510PD
SA-S110PD
Measurement range
10mm
Resolution
0.5μm
0.1μm
Indication accuracy (P-P)*1
2μm
1μm
Measuring force*2
1.5N ~ 3N
Operating pressure range
0.05 ~ 0.12MPa
Mass
Approx. 80 g
Withstanding pressure
0.2MPa
Operating temperature/humidity range
-10℃ ~ 55℃
35% ~ 80%RH
(with no condensation or icing)
Storage temperature/humidity range
-20℃ ~ 60℃
35 ~ 80%RH
Grounding method
Capacitor grounding
Cable
Sold separately as an option
Measurement terminal
Ceramic ball Φ3.175 mm
*1 When the ambient temperature is 20℃.
*2 The value varies depending on the supplied air pressure.
Contact Us
Contact information for general customers

Citizen Finedevice Co., Ltd.
Sales Group, Industrial Equipment Department
TEL 0555-22-1141 (Direct)